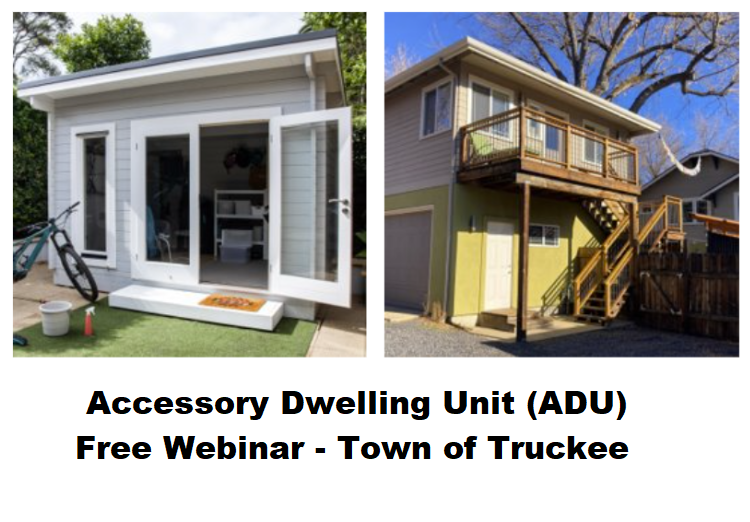 Thursday, May 11, 2023
12 – 1 pm
The Town of Truckee is hosting a free Accessory Dwelling Unit webinar on May 11th 2023.
In an effort to address California's housing shortage, the state has been aggressively ensuring that all local governments and HOAs allow for the construction of ADUs. The Town of Truckee too, is offering many incentives and helping homeowners understand the benefits of constructing an ADU.
ADUs have many names: granny flats, in-law units, backyard cottages, secondary units and guest units. They allow for an affordable type of home construction in California because they do not require paying for land, major new infrastructure, structured parking, or elevators.
As an additional source of income for homeowners, adding an ADU can also give homeowners the flexibility to share independent living areas with family members and guests. This is a great opportunity for resort homes located in like Lake Tahoe and Truckee.
Sierra County had rolled out pre-approved plans when launching their ADU program and now, Truckee is offering something similar. Ready to build plans can save homeowners thousands of dollars in design and permitting costs when constructing an accessory dwelling unit.
In their May 11th meeting, the Town of Truckee will be rolling out their ADU program guidelines. They will discuss funding incentives, the ADU Permit Process and a chance to see the new, pre-approved ADU Plans. They will also present information about the Town ADU Codes and Standards for both new and existing units.
This webinar is for those who are interested in building a new ADU, converting existing space into an ADU, or wanting to understand the permitting process for an unpermitted ADU.
What you will learn from this webinar
Introduction to the Town of Truckee ADU Program including funding incentives
Overview of Town ADU Codes and Standards for both new and existing units
Overview of Town ADU Permit Process
Introduction to the new, pre-approved ADU plan sets
How to Register
It is important to register in advance to attend. Click here to register. You will be sent log in information for this webinar via email.
Contact me today for more information about available homes for sale in the Lake Tahoe and Truckee area that would be great for an ADU. I can also provide a free marketing analysis for your current home.